QUALITY MAINTENANCE ALLOYS
---
Along with exacting Chemical and Metallurgical formulations you can be assured of UNITED ALLOYS consistency every time you order.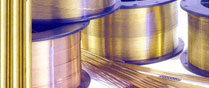 Proprietary Mainenance
Welding Alloys
Use the chart below to find the product you are looking for. Links are provided for most products to a complete product description which you can download. 
DESCRIPTION . . . . . . . . . . . . | POLARITY . . . . . . | MECHANICAL PROPERTIES
| | | |
| --- | --- | --- |
| Premium quality all steel, all position alloy | AC/DC EP | 127,000PSI 37% ELON |
| | | |
| --- | --- | --- |
| Work hardening all steel alloy | AC/DC EP | 120,000PSi 30% ELON |
| | | |
| --- | --- | --- |
| All steel alloy for out of position work | AC/DC EP | 110,000PSI 30% ELON |
| | | |
| --- | --- | --- |
| General purpose all position alloy for the novice welder | AC/DC EP | 85,000PSI 28% ELON |
| | | |
| --- | --- | --- |
| Super tensile, torch cuttable for high tensile steels | AC/DC + | 130,000PSI 30% ELON |
| | | |
| --- | --- | --- |
| High strength brazing alloy for all steels | OXY/ACT | 100.000PSI 30% ELON |
| | | |
| --- | --- | --- |
| Free flowing low fuming bronze | OXY/ACT | 80,000PSI 30% ELON |
| | | |
| --- | --- | --- |
| Quality general purpose for tig and torch | Tig & Torch | 86,000PSI 24% ELON |
Click here to view spec sheet >>
DESCRIPTION . . . . . . . . . . . . | POLARITY . . . . . . | MECHANICAL PROPERTIES
| | | |
| --- | --- | --- |
| Unique BiMetal core for problem cast iron | AC/DC EP | 72,000PSI 30% ELON |
| | | |
| --- | --- | --- |
| Specs to come | to come | to come |
| | | |
| --- | --- | --- |
| Machinable high nickel alloy | AC/DC+ | 65,000PSI 28% ELON |
| | | |
| --- | --- | --- |
| Economical 55% nickel alloy | AC/DC+ | 60,000PSI 28% ELON |
| | | |
| --- | --- | --- |
| Non machinable for buffer & sealing cast iron | AC/DC EP | 65,000PSI 18% ELON |
| | | |
| --- | --- | --- |
| Brazing alloy for thin cast iron | OXY/ACT | 100.000PSI 30% ELON |
| | | |
| --- | --- | --- |
| Quality gas welding rod for cast iron | OXY/ACT | 53,000PSI 22% ELON |
DESCRIPTION . . . . . . . . . . . . | POLARITY . . . . . . | MECHANICAL PROPERTIES
| | | |
| --- | --- | --- |
| Exclusive Supronox coated aluminum alloy | DC+ONLY | 38,000PSI |
| | | |
| --- | --- | --- |
| Flux cored aluminum brazing alloy | OXY/ACT | 30,000PSI |
| | | |
| --- | --- | --- |
| Super low temp solder for ultra thin repairs | Propane torch | 22,000PSI |
DESCRIPTION . . . . . . . . . . . . | POLARITY . . . . . . | MECHANICAL PROPERTIES
| | | |
| --- | --- | --- |
| Complex carbide overlay wear plate | | Rockwell 62 |
| | | |
| --- | --- | --- |
| 680 Extreme pressure manufactured plastic | | |
Click here to view spec sheet >>
DESCRIPTION . . . . . . . . . . . . | POLARITY . . . . . . | MECHANICAL PROPERTIES
| | | |
| --- | --- | --- |
| Smooth overlay for extreme abrasion | AC/DC EP | ROCKWELL 56-64 |
| | | |
| --- | --- | --- |
| Work hardening for build up and joining | AC/DC+ | ROCKWELL 28-45 |
| | | |
| --- | --- | --- |
| Tungsten carbide for maximum abrasion | AC/DC+ | ROCKWELL 64-70 |
| | | |
| --- | --- | --- |
| Tubular chrome carbide overlay | AC/DC+ | ROCKWELL 57-62 |
| | | |
| --- | --- | --- |
| Tubular 50% Tungsten carbide filled alloy | AC/DC+ | ROCKWELL 64-72 |
| | | |
| --- | --- | --- |
| Tubular High impact resistant alloy | AC/DC+ | ROCKWELL 28-45 |
DESCRIPTION . . . . . . . . . . . . | POLARITY . . . . . . | MECHANICAL PROPERTIES
| | | |
| --- | --- | --- |
| Unique cutting, heating & chamfering rod | AC/DC | NO DEPOSIT |
| | | |
| --- | --- | --- |
| Protects parts from heat up to 3000F | | PASTE |
DESCRIPTION . . . . . . . . . . . . | POLARITY . . . . . . | MECHANICAL PROPERTIES
| | | |
| --- | --- | --- |
| Thin flowing cadmium free 45% alloy | 1300-1600 | 75,000PSI |
Click here to view spec sheet >>
| | | |
| --- | --- | --- |
| Thin flowing cadmium free 56% alloy | 1300-1600 | 80,000PSI |
Click here to view spec sheet >>
| | | |
| --- | --- | --- |
| High strenght wear resistant silver alloy | 1250-1750 | 113,000PSI |
Click here to view spec sheet >>
| | | |
| --- | --- | --- |
| 15% Silver alloy for copper &its alloys | 1200-1600 | 70,000PSI |
Click here to view spec sheet >>
| | | |
| --- | --- | --- |
| 5% Silver for piping and tubing | 1000-1250 | 65,000PSI |
Click here to view spec sheet >>
| | | |
| --- | --- | --- |
| Low temp silver alloy | 300-450 | 15,000PSI |
Click here to view spec sheet >>
DESCRIPTION . . . . . . . . . . . . | POLARITY . . . . . . | MECHANICAL PROPERTIES
| | | |
| --- | --- | --- |
| Quality cold spray powder torch | OXY/ACT | KIT |
Click here to view spec sheet >>
| | | |
| --- | --- | --- |
| One step nickel chrome powder | OXY/ACT | Rb 80-90 |
Click here to view spec sheet >>
| | | |
| --- | --- | --- |
| One step aluminum bronze powder | OXY/ACT | Rb 64-77 |
Click here to view spec sheet >>
| | | |
| --- | --- | --- |
| Bond coat powder for 2 step process | OXY/ACT | BONDCOAT |
Click here to view spec sheet >>
| | | |
| --- | --- | --- |
| High chrome, corrosion resistant 2 step | OXY/ACT | Rb 85-90 |
Click here to view spec sheet >>
| | | |
| --- | --- | --- |
| Quality hot spray powder torch | | KIT |
Click here to view spec sheet >>
| | | |
| --- | --- | --- |
| Most universal alloy hard and tough | OXY/ACT | RC 37-40 |
| | | |
| --- | --- | --- |
| Tungstan carbide in NI Chrome matrix | OXY/ACT | RC 64-70 |
DESCRIPTION . . . . . . . . . . . . | POLARITY . . . . . . | MECHANICAL PROPERTIES